This. This is the reason I no longer work Sundays*. That photograph you see of my son being amazed at my…hck hmm…beauty(!?) as he sees me for the first time in my bed-sheet wedding dress. Yup. This was Sunday, this was me making time to play Weddings with my gorgeous boy. Wearing a Minion T Shirt and Cravat (he's a trend setter!) he covered his eyes as I walked into the lounge and Geoffers grabbed the camera in time to document this beautiful moment…followed by the absolute smacker of a kiss that followed. He tells me that our Wedding was his favourite and best day and that he especially liked the bit where we ate Smarties. (It's worth pointing out that I don't recall us eating any Smarties…but then I don't think my dress was worthy of his reaction either so I'll let his imagination prevail!)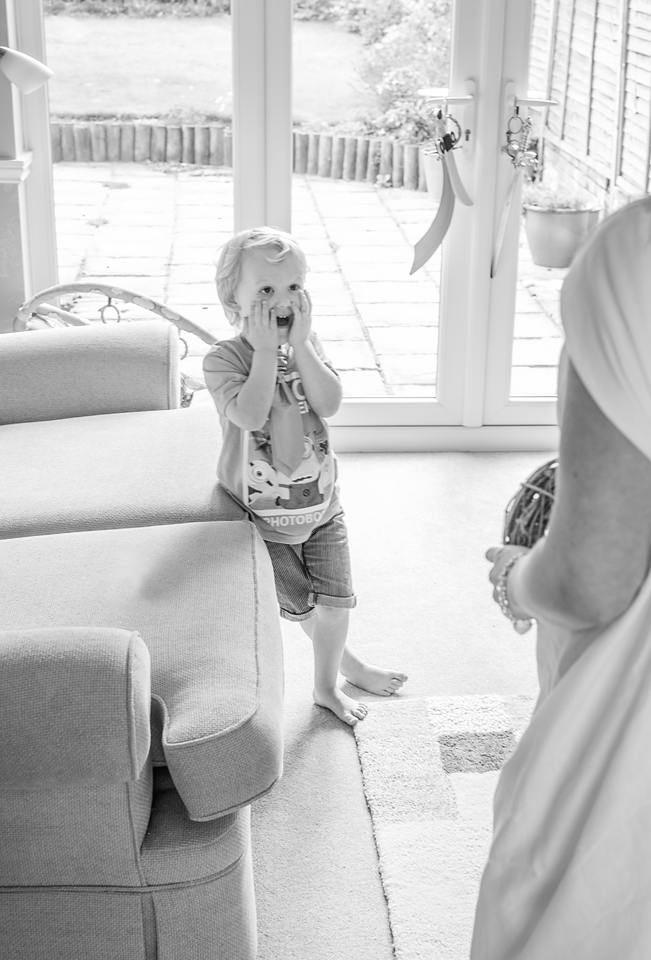 I have had to work Sundays for most of my working life, it was expected as part of waitressing and at the DIY store where I worked whilst at College and afterwards, it became part of my life whilst I undertook shift work for the Police. I found myself years later in the business of photography with many clients looking to weekends for their sessions and I was constantly putting my family second. Whilst I never particularly relished Sunday working (I'd always rather be going to Church, seeing family and eating a roast!) I was happy enough to accommodate as I hated the idea of letting anyone down.
For some time now, though, I have been trying to separate a little time off in my week for my family and generally, as each week finishes, I feel I have failed. The odd nursery rhyme with Beatrice and a quick jigsaw puzzle with George, squished in-between a morning of editing and afternoon of seeing clients just wasn't cutting it…and down-time with my fella was almost non-existent. I'd had enough! Two weeks ago I announced. "That's it! I'm not working Sunday's anymore!" I'm not sure anyone believe me but I heard Geoffers telling family the other day 'Abi doesn't work Sundays now' and just hearing those words, I felt a huge weight off my shoulders! A day when I don't have to think about responding to emails, a day when I don't have to watch the clock and get back to my desk… a day to play dressing-up with my Three year old.
A.x
*Except for in the case of stonkingly fabulous Weddings. I can never turn down one of those!!